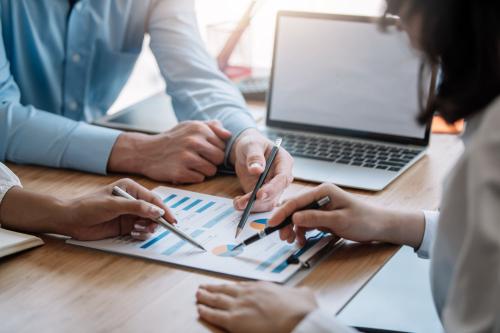 Calculating a precise Return on Investment (ROI) of a college degree is less important than taking actions that will result in better returns. We can put the calculator away and think simply about how to increase the Return on Investment for education.
Maximizing educational ROI boils down to:
Minimizing the total amount paid for college (the "cost" or "investment"), and

Increasing the income earned from the college experience (the "return").
It's really that simple. Students and parents can take many concrete actions to increase the Return on Investment while the student is in-school and after graduation. Here's how:
Minimize the Cost of College


To minimize the total cost of college:
Graduate in four years.

Extending your education beyond four years means paying more for the extra years AND foregoing earnings each year as well. It's a double whammy on ROI because you've increased total cost AND decreased potential earnings.

Work the financial aid process.

College students need to refile the FAFSA form each year to maintain eligibility for federal financial aid. And to appeal for more aid if their financial circumstances change from year to year. COVID-19, for example, is leaving some families feeling the pinch of job loss, health challenges, and other substantial changes in their family's financial circumstances. These families may qualify for more financial aid as a result. Filing the required forms (FAFSA and, for some, the CSS Profile) as early as possible is strongly recommended as some aid is distributed on a first-come, first-served basis.

Borrow as little as possible.

Student loans should be the last resort, not the first option to pay for college. Every dollar that is borrowed is paid back with at least two dollars over time. Choosing to live like a student while in college is far preferable to living like a student out of necessity as a 30-something due to excessive college borrowing.

Keep looking for scholarships.

Scholarships are not just available for high school students. College students have many options to earn scholarships and prizes far beyond their freshman year.
Maximize Earnings


To maximize the income earned from the college experience:
Find internships.

The pandemic has changed the internship experience for college students, but internships are still available. Students will increase their odds of finding a job at graduation - one big way of maximizing their ROI - if they have had summer internships while in college. And the more the merrier. Three is better than two, which is better than one, which is better than none. Summer internships still offer students many opportunities to:

Earn money over the summer

Explore narrower fields within a career path

Gain experience to help them "rule in or out" the kinds of jobs they may enjoy, and

Acquire perspective to enrich future job interviews
Take advantage of school resources.

Most, if not all, colleges have career resource centers to guide students in the process of finding internships and jobs. Career services offer resume writing help, practice with job interviews, and, in many cases, job fairs or on-campus interviews for students. Getting to know the career counseling staff is always a good idea.
Six Tips to Increase ROI
Here are six ways to improve the ROI on your investment in education:
Pay interest on loans while in school.

Reduce the total cost of a student loan by paying interest each month rather than having it added to the principal amount outstanding (a.k.a. capitalized interest). A loan with a principal amount of $1,000 and a 5% interest rate requires $50 in annual interest. If the interest is not paid, it is capitalized. After the first year, the amount owed is $1,050. In Year 2, 5% interest is paid on $1,050.

By paying the interest while in school, the principal amount remains $1,000. Borrowers who pay interest while in school rather than capitalize it pay less for their loans thereby increasing their ROI.
Use a Tuition Payment Plan.

Many colleges send brochures for tuition payment plans with the college bill. Families can use current income to pay some of the bill over several months rather than in a lump sum. Payment plans are handy ways to reduce student debt.
Use credit card rewards.

Some credit cards offer cash-back rewards or direct links to pay down student loans or make deposits to 529 college savings plans. The benefit of these programs: users accumulate benefits without changing current spending habits.
Become a Resident Assistant/Advisor (RA).

In addition to looking great on an internship or job application, RA positions come with free room and board, a value of $10,000 or more at many schools.
Work part-time.

Students can find a part-time job or ask the Financial Aid office about eligibility for a federal work-study job. The extra cash defrays expenses, can reduce student loan debt, and helps increase ROI.
Direct cash gifts to college expenses or savings.

Holiday and birthday gifts used for college expenses or savings will likely also reduce a student's debt and increase ROI. Even small gifts applied to college costs over time help a lot.
Increase ROI After College
After leaving college, don't throw in the towel - keep increasing the ROI by smartly managing student loans. Try to reduce the interest rate and, if possible, the number of payments to be made. Although there is no one-size-fits-all answer for the "best" options, here's how to get started:
Contact your loan servicer to explore options to consolidate multiple federal loans into one loan or to use one of the federal government's many income-based repayment or loan-forgiveness plans.
Consider refinancing student loans. Banks, credit unions, and others offer loans to refinance student debt. Qualified borrowers with good credit scores can find lower interest rates. Borrowers with federal student loans need to consider the federal benefits they may be giving up. Choosing private refinancing means giving up access to federal benefits including loan forgiveness programs and income-driven federal repayment plans. For many borrowers, this trade-off is favorable and results in an increased ROI.
A Tip for Recent Graduates
Most recent graduates will not yet have a strong enough credit profile to refinance loans with a bank or other private lender. The first step in managing your debt after graduation is to consider consolidating your federal loans. No matter what, making consistent regular payments on outstanding debts, including student loans, will help build your credit score. Over time, establishing an excellent credit record will produce opportunities for private student loan refinancing.
Final Thought
While parents and students have myriad options from which to choose, the fact remains that anything done to reduce the total cost of college and increase earnings will have a favorable impact on the Return on Investment in a student's college education.