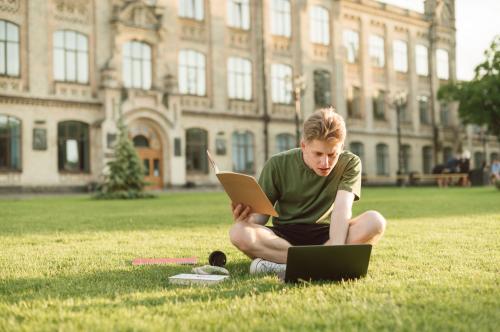 High school seniors are now filling out college applications. Some students have the college of their dream insight. Others will have to make a tough choice about which college they will attend.
So, how should families wade through emotional connections to certain colleges and make a decision that is rooted in logic?
In part, it helps when a family realizes that they are consumers in a business transaction of purchasing a college education. As consumers, they should consider:
Affordability

Outcomes

The Reputation
Affordability
We all know that college costs are high even if a student receives a generous financial aid package with plenty of merit-based scholarships and/or need-based financial aid. But even with some "free" money, a college can remain financially out of reach for middle-class families making just enough to pay their bill, let alone enough to cover an entire semester's balance.
There is a basket of funding options for families to cover the bill:
College savings

Grants and scholarships other than those offered by the college

Tuition Payment Plans

Money from current income
Student and parent loans
Too often borrowing for college has been the automatic answer to filling funding gaps between the cost of college and resources to pay for college. The result: parents and students getting into student loans over their heads. Student loans should be the last resort and not the first option when paying for college.
Choosing a college that is affordable sometimes means selecting one that may not be a student's dream college or a brand-name school with a great football program. But a less popular but affordable school may be the right answer to keep a family from taking excessive student debt.
Families are doing more research using free student loan calculators like this one to find out before they borrow if the estimated debts will be too large for them. Families and students need to know before they owe. Estimating the total amount that may need to be borrowed and calculating the monthly payment now - before committing to attend a college - could avoid a lot of trouble later.
Interests/Major/Careers
The economy is always changing, and while college degrees are valuable, some students end up working in a field very different from what they first thought. Either the student's interests change over time or the market demand for jobs dictates a change in plans. There are terrific tools to help students assess their skills and aptitudes from which they can begin to select majors that will eventually lead to a career.
Students can begin to understand if their major will lead to a job that will pay enough to repay their loans. Psychology, for example, is a very common major but also one of the lowest-paying after graduation. Science, technology, engineering, and mathematics (or STEM) are often cited as developing graduates with high-income potentials. Majoring in pre-med while failing to carry on to medical school could result in a large investment without a big return.
Encourage your student to consider how certain majors or classes can accentuate their talents and how the knowledge can be adapted to new opportunities. Even Steve Jobs commented that during his brief time in college, he was able to learn the importance of calligraphy and directly applied it to the font types in personal computers. He learned how to adapt his knowledge to create something new after learning some fundamentals in the classroom. This may be the greatest gift education can give students, but it's not so obvious when first getting started.
School Reputation/Network
An important reason why students want to attend brand-name schools like Harvard and Stanford is the reputation of such schools for producing high-value graduates from particular areas of study. Additionally, alumni networks can open up further opportunities after graduation. For many, this is sufficient justification for the high price tag associated with the most selective institutions.
One factor to consider for any school - whether a household name or a hidden gem - is the track record of the alumni and the reach of the college into local, regional and national job markets. Some colleges have extremely high visibility and excellent job placement rates in local or regional areas but may not be known nationally. To better judge these potential opportunities, consider.
Notable Majors at the College
Look at the production of specific majors at certain colleges to learn more about their programs. Compare this to data from the Bureau of Labor Statistics to see how certain majors mesh with career opportunities that are expanding today.
Industries Where Alumni Are Most Common
Researching job placement at prospective schools could help identify less expensive schools with excellent concentrations in fields of interest to your student, i.e., education, finance, technology, business, etc.
Carefully considering these factors will help students choose a college just like a consumer would purchase other products. Considering the cost, how to pay for it and what the outcome might be will help make this purchase a success.