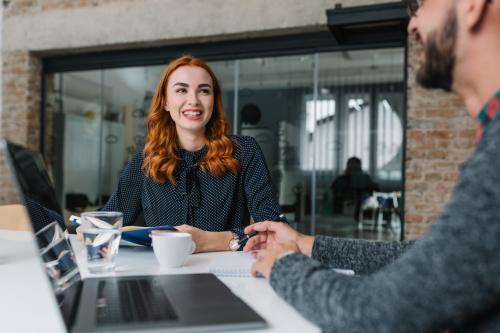 The last year of college is a very exciting time, but also very challenging. There are plenty of changes ahead, not the least of which is finding a job.
It's now time to start searching for your first job and to lay the foundation for your career path. Here are some questions to ask yourself:
What industry or job are you interested in?

What are your most valuable skill sets - how will you apply them in your career?

What kind of company do you see yourself working for? A small start-up, a global corporation, or something in between?

Will your salary cover your cost of living, including your student loan payments?

Where do you want to live?
Your previous experiences before senior year, whether they be internships or classes, likely left you with some idea of what you would like to do. Ideally, these high-level questions have been answered so you can jump into your job search at the start of your senior year.
Job searching can become a stressful experience if you let it, so it's important to keep a clear head and remember everyone approaches the process differently. You may be graduating with a job lined up or you might be crossing the graduation stage without a clue of where you will be working. Either way, it's ok.
If you graduate without a job, your job is to get a job.
Preparing Your Materials


Resume.

By senior year, you should already have your resume finished. Make sure there aren't any typos, review it periodically based on the feedback you get, and add any additional relevant information.
LinkedIn profile.

A LinkedIn profile is an online version of your resume. Treat your Profile as a resume and keep it updated.
Cover letter & thank you notes.

Create a basic template based on what is pertinent for your industry but tailor it for each unique position. Triple check to make sure that you have changed every single detail to address the role you're applying for.
References.

Have several prior supervisors, professors, or other persons ready to provide a strong reference, attest to your ability, work ethic, knowledge, and experience. It's a bonus to have references that can speak directly to your excellent work in the specific field or job for which you have applied. Once the employer asks for your references, be sure to contact the references you provided to alert them that someone from the company will be contacting them.
Work product and portfolio.

Artists and musicians will have their compositions. Academics may have a school project, a research paper, market analysis, or other work product from an internship or classwork to represent their work. When in doubt, school resources such as career advisors and professors can offer some great tips and guidance on what to include in your professional portfolio.
Sources of Jobs


Prior internships.

Many summer internships, particularly those between the summer of junior and senior year, can be like extended job interviews. Employers often evaluate summer interns intending to offer them a full-time position after graduation. Interns should approach each internship as a potential employment opportunity

.
Career placement offices/career fairs.

Job placement rates are very important to colleges. Most invest significant resources to make it easy for companies to recruit on-campus. These offices are also excellent sources of information about jobs and internships.
Networking.

Connect with people who can give you tips, advice, and references related to your job search. This is a rich source of jobs. The more people you talk to, the greater the chances are that someone will connect you to a job opening or to someone else who can help get you there. Everyone you meet is part of your network.

Look for networking groups within your industry. Many offer free memberships for college students.

Work online networks such as LinkedIn, Twitter, and Facebook.
Alumni.

College alumni associations encourage interaction between students and alumni. Alumni truly want to help and make themselves available for panel discussions, informal one-one chats about their career path, or formal informational interviews. Recent graduates remember what it's like to be in your shoes and can be particularly helpful.
Websites.

Many employers post open positions on LinkedIn, Glassdoor, and Indeed. These websites allow you to upload your resume and cover letter to help you apply to many jobs at once.
HR websites.

Companies use their websites to communicate to a broad audience, including job seekers. Job openings are often posted on their website in a tab such as "open positions," "career opportunities" or "join our team."
Applying


Once you have identified some positions of interest, it is time to apply. There are several ways to apply. Start by confirming how the company receives applications: through their website, email, regular mail, or in person.
Some job postings have a deadline. The employer will likely wait until the closing date to begin reviewing applications. Otherwise, it is done on a rolling basis meaning that the employer will review applications as they come.
Generally, employers will follow up with a group of candidates from the applicant pool for first-round interviews. From there, a smaller group is selected to continue the process until the final candidate is selected and offered the job.

Particularly for technical jobs, it is not unusual for companies to require applicants to do some online or in-person testing, problem-solving, or short presentations.
Accepting the Offer


After you receive your offer, be sure that you understand the terms and conditions of your employment:
What is your salary?

How often will you be paid?

Will you be paid by check or a direct deposit?

Do you get a signing or guaranteed year-end bonus?

What benefits are you eligible for?

Common benefits:

Health Insurance

Dental Insurance

Eye Care

Retirement plan

Tuition reimbursement

Long and short-term disability

Cost:

Which benefits do you have to pay for?

Does the employer pay some of the cost?

Does the employer match a portion of your contribution to the retirement plan?

Do you have to work for some period before you are eligible for some or all of these benefits?

Will the company do a background check on you before you can join?

Are you required to sign any other documents before starting?

Non-compete

Non-disclosure
Whoever sent you the offer will be glad to discuss the terms with you. There is no such thing as a dumb question. The most important thing is that you fully understand the terms and conditions of your employment.
Once you are comfortable, sign your offer and be proud of your first paycheck. It's an accomplishment and you will have earned it.
Welcome to the real world!